Summer 2020 Special Events
$20.00 – $75.00
Join us on the Farm for an intimate evening of designing with our farms seasonal blooms. You will start by learning about our journey and why we strive to bring local flowers to Oklahomans then move to picking your favorite blooms from our field to design your very own arrangement to take home and enjoy. We will provide all the supplies and one-on-one design assistance along with light snacks and drinks. Experience summer sunsets, crickets singing their sweet songs, and lighting bugs dancing among the fields of flowers all while you make a gorgeous arrangement.
Friday, June 26th at 7pm
Saturday, August 1st 7pm
Friday, August 14th at 7pm
Friday, September 18th at 7pm
Floral Design Classes are $75 per person. Spots are limited.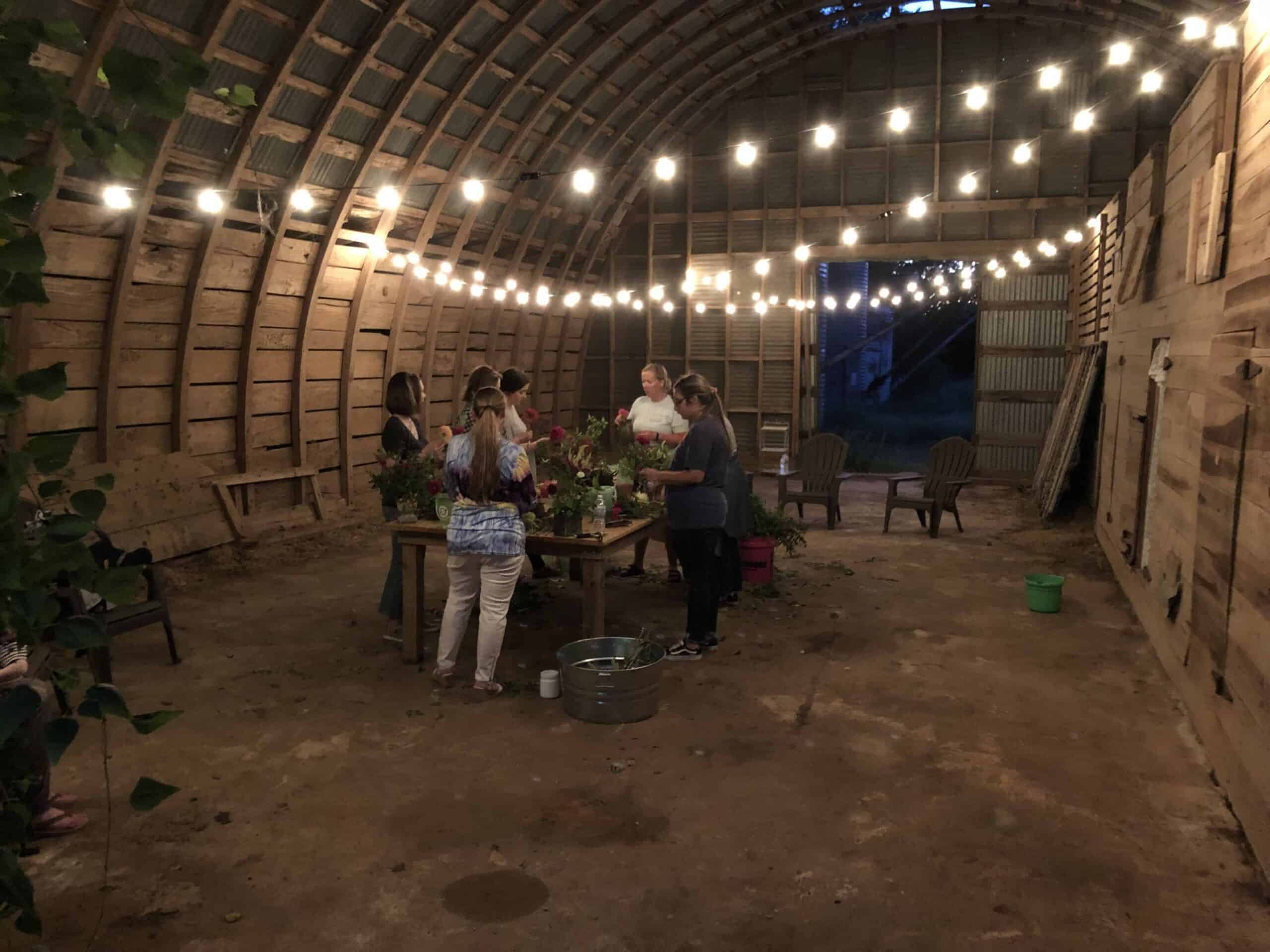 Grab your lover or favorite pal and come out for flower picking and then find a blanket and enjoy charcuterie and live music under the stars! Our friends over at Graze OKC have partnered with us for a date night at the farm by creating a scrumptious graze box filled with crackers, cheese, meats, sweets, dips, fruit, and veggies! The very talented Grant Scowden will be serenading us with his amazing voice! Your ticket includes one U-Pick bucket to share (additional U-Pick buckets $20), one graze box (charcuterie dinner for two), non alcoholic beverages, and live music. You and a guest only need to purchase one ticket! If you need an extra U-Pick bucket (instead of sharing one), you can purchase an extra one at the farm for $20!
Friday, July 17th 7pm $75 per ticket.
Grazing Boxes and Grant Scowden
Join us for a casual day of Teas and Tonics! A triple bang for your buck with Petal Pushers Farm, Aspen Sage Naturals & Bad Baxter Farm! Gather around the table to taste test your way through an array of floral & herbal teas, cold and hot, for relaxation, immunity, sleep aide, detox, decongesting & more. Make 3 of your own DIY Teas to take home with our dried herbs we have available for class. We will discuss what part of the body and immune system reacts to each herb and you can create your own healthy herbal teas!
Finally, while you sip, hear Blaze of Bad Baxter Farm discuss & demonstrate Elderberry Syrup & Tonic preparation- discuss differences between these two, taste test, discuss alternate ingredients to add for extra relief in specific ailments. Drying, freezing VS Fresh berries. We will start a tonic in class a send you home with recipes for all.
Master Tonic or Fire Cider- This potent concoction is one of our family favorites for those stuffy noses and head colds. A tonic will be prepared in class. Taste a batch of Blazes special Fyre' Cydre' and discuss what unthought of herbs you can forage for in your own back yard to boost the tonic even more. Discuss uses for all parts of this drink and the herbs that makes it pack such a punch.
Saturday, September 19th 12-3pm. $40 per person. Sign up on eventbrite with Aspen here.

Enjoy the beauty of cutting flowers under the Autumn moon! Lanterns will guide your way in the field while you cut flowers then end your evening enjoying the quiet country sounds next to our campfire. Tickets include one U-Pick bucket. S'mores and hot chocolate available for purchase.
Friday, October 9th 6-8pm. $20 per ticket.